Research topics
This is a list of the main research topics I have focused on over the course of my career.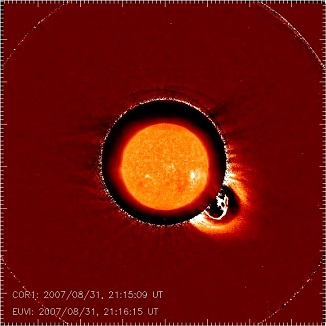 Coronal Mass Ejections
Studies of Coronal Mass Ejections and Prominence Eruptions (click here for more details).
During my career I focussed on the analysis of small scale eruptions with SOHO UVCS that allowed me to discover a new class of them called "streamer blobs" [ 1] and to study polar jets with Hinode/XRT measuring their contribution to coronal heating and solar wind [ 2, 3]. Then, I mostly focussed on the study of CME plasma evolution based on the combined analysis of UV spectra acquired by SOHO UVCS and Visible Light (VL) images from SOHO LASCO [ 4, 5, 6, 7, 8], and also explored the role of nearby coronal features in the deflection of CMEs [ 9, 10], the origin of multiple CMEs [ 11, 12], and the role of magnetic drag in the inner corona [ 13]. For all these works I received the "Stefaan Hepites Prize" in 2013 by the Academia Romana. I also employed STEREO data to reconstruct the 3D evolution of prominence eruptions [ 14, 15, 16] and analyzed their EUV spectroscopic emissions to derive information on the enhancement of non-thermal motions during the eruptions [ 17, 18, 19, 20, 21]. Recently, I tested new diagnostic techniques for the analysis of UV and VL coronagraphic observations of CMEs based on the analysis of synthetic data [ 22, 23, 24, 25, 26].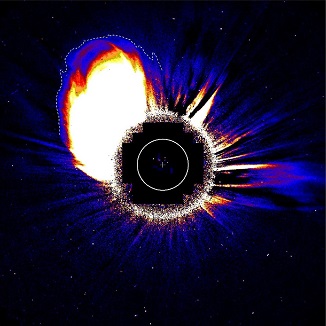 CME-driven shocks
Studies of Shock waves driven by Coronal Mass Ejections (click here for more details).
Over the last 10 years I opened new avenues for the research on interplanetary shocks excited by CMEs [ 1], providing a new analysis technique that, taking advantage of combined UV and Visible Light (VL) data, allowed the first ever determination from remote sensing of full plasma parameters across shocks including the magnetic field [ 2]. This technique was successfully applied to different events [ 3], tested with numerical MHD simulations of CME-driven shocks [ 4], and allowed to derive for the first time a 2D map of the pre-shock coronal magnetic field strenght [ 5], opening the possibility to employ shock observations for coronal magnetometry, even just with the analysis of VL coronagraphic images [see review in 6]. More recently, I also focussed on the early formation of shocks based on the analysis of EUV images acquired by PROBA2 SWAP and SDO AIA telescopes with the Differential Emission Measure technique 7, 8, 9, 10] also measuring the plasma temperature jump across shock fronts [ 11]. See [12] for a quick review.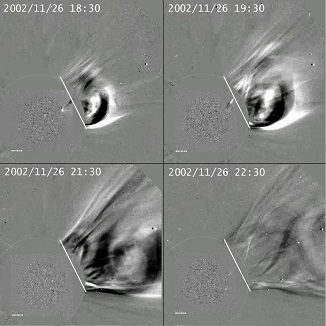 Post-CME CS
Studies of plasma evolution inside post-CME Current Sheets-CS (click here for more details).
For some works I focussed on the evolution of plasma heating in post-CME Current Sheets, combining SOHO LASCO Visible Light (VL) images and SOHO UVCS spectra [ 1, 2, 3, 4, 5], as well as RHESSI and SXI X-ray data [ 6]. These works demonstrated for the first time the unexpected long persistence (days) of high plasma temperatures (T > 6 MK) inside these features, and the origin of plasma heating related with turbulent magnetic reconnections going-on for days after the eruption. For these works I received the "JOSO Prize" in 2009 by the Joint Organization for Solar Observations (JOSO).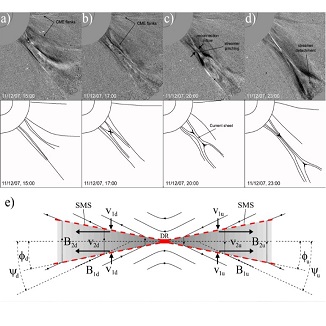 Magnetic reconnection
Studies of magnetic reconnection processes associated with CMEs (click here for more details).
In a series of works I studied the evolution of plasma during magnetic reconnection processes associated with CMEs, and in particular focusing on side reconnections induced by lateral CME expansion [ 1, 2], post-CME reconnections [ 3], and turbulent reconnection going on in post-CME Current Sheets [ 4, 5]. The same topic was also investigated with MHD numerical simulations [ 6, 7].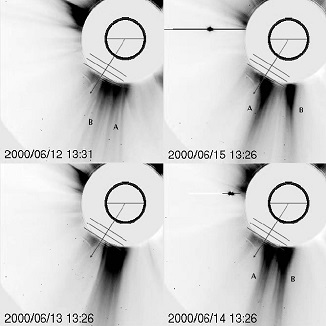 Solar wind origin
Studies of slow/fast solar wind acceleration and coronal heating problem (click here for more details).
During my career I also focussed on the early acceleration of slow solar wind as observed by SOHO UVCS remothely and by Ulysses in situ [ 1, 2, 3], and more recently on understanding how the magnetic fields modify the appearance of large-scale coronal features [ 4], and also on the optimization of Doppler dimming technique to measure the solar wind speed by combining UV and Visible Light (VL) coronagraphic images [ 5, 6]. In one of these works [ 7] I provided new data analysis methods to measure the solar wind acceleration and I proposed a new view of physical processes responsible for it. Results from this work were compared with in situ measurements acquired by Ulysses, demonstrating that at low heliolatitudes the wind speed profile is inclined to the ecliptic plane due to coronal hole flows [ 8]. In other works [ 9, 10] I also studied the plasma density fluctuations going on in polar coronal holes likely related with coronal heating and fast wind acceleration, as well as the detection with Hinode/EIS of non-thermal motions in polar coronal holes providing an estimate for the energy flux possibly supplied to the corona by Alfven waves 11]. Moreover, in another work I estimated (based on a statistical analysis) the contribution to the fast wind flow and coronal heating by small scale polar jets [ 12].
Sungrazing comets
Studies of sungrazing comets in UV and visible light observations (click here for more details).
In a few works I studied the SOHO UVCS observations of sungrazing comets measuring the outgassing rate and the size of the cometary nucleus [ 1, 2], and proposing a possible role by sublimating pyroxene dust grains in the formation of additional neutral H atoms [ 3]. More recently I proposed new analysis methods that could be applied to UV images of sungrazing comets to infer not only cometary properties but also information on the local solar wind plasma [ 4]. Main results from the analysis of UVCS observations of sungrazing comets were summarized in a short review paper [ 5].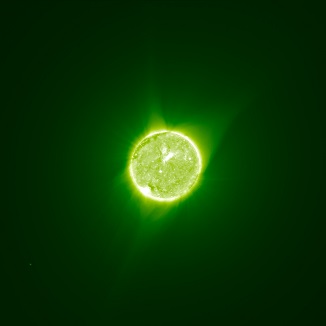 Solar eclipses
Studies based on ground-based data acquired during total solar eclipses (click here for more details).
I had the opportunity to work on the analysis of observations acquired on-ground during total solar eclipses (TSE). In particular, I analyzed the spectro-polarimetric observations acquired with CorMAG instrument during the TSE of July 11th 2010 from Tatakoto Island [ 1] that allowed to demonstrate the capability to measure coronal magnetic field strenght with the Hanle effect [ 2]. Moreover, I also studied the "Greath American Eclipse" that occurred on August 21st 2017, by acquiring a sequence of images from nearby Idaho Falls with a standard DSLR camera [ 3], and from detailed analysis of these images I measured the coronal electron densities, showing the level of scientific results that can be achieved starting from a basic amateur equipment [ 4].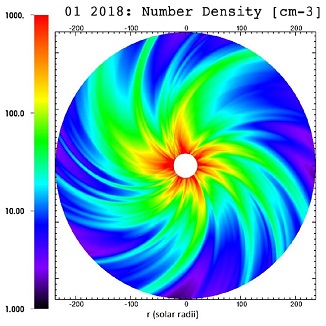 Space Weather
Development of new capabilities for Space Weather applications (click here for more details).
I devoted part of my activities also to the interplanetary propagation of CMEs based on the comparison between remote and in situ data from Ulysses [ 1, 2], focusing also on Geoeffective CMEs [ 3]. I then collaborated as Co-I to the European project SWIFF (Space Weather Integrated Forecasting Framework) Project founded by ERC [ 4] I collaborated on the development of a Space Weather tool for the automated identification of Interplanetary CMEs with in situ data acquired in L1 [ 5], on the study of possible effects of solar disturbances to the instruments placed in L2 [ 6], and on the development of the baseline for a "Heliospheric Space Weather Center" in Turin in a collaboration between INAF-OATo and ALTEC [ 7, 8]. As a member of the "Space Weather Working Group" of the Italian Space Agency (ASI) I gave my contribution to summarize the current status of Space Weather research in Italy [ 9]. Moreover, I started in INAF-OATo the SWELTO (Space Weather Laboratory in Turin Observatory) Project which is developing, testing and running new tools for the realtime analysis of space- and ground-based data of interest for Space Weather (see [ 10] for a detailed description of the SWELTO activities, visit the SWELTO portal to see realtime results, or listen my presentation (10 minutes mp4 video) given at the last ESWS2020 conference.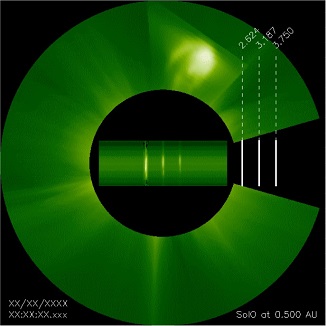 Instrument support
Support to the development of new coronagraphic instrumentations (click here for more details).
A significant fraction of my work was also devoted to support the developent and calibration of new instrumentation, both for ground- and space-based observations of the solar corona. In particular, to support the observational campaign for total solar eclipse in July 11th 2010 I simulated the effect of Fraunhofer absorption lines in the band-pass of tunable filter centered on the FeXIV "green line", and simulated the expect "green line" coronal radiances [ 1]. To support the analysis of data acquired by the SCORE Sounding Rocket experiment I estimated the contamination due to the SiX 303.32 line in the HeII 303.78 band-pass [ 2]. As Co-I of the Metis coronagraph for ESA Solar Orbiter, I simulated the UV (Lyman-alpha) and Visible Light (VL) polarized images to estimate the data countrates and optimize the exposure times [ 3, 4] based also on the analysis of spacecraft orbit [ 5], I worked on the optimization of the on-board compression algorithm [ 6, 7], on the optimization of the "CME-mode" observations [ 8], I defined the on-board algorithm for the automated detection of CMEs and the provision of a "CME-flag" [ 9, 10, 11], and more recently I worked on the provision of a full catalog of synthetic Metis data all along the Solar Orbiter mission to test the data inversion [ 12]. Finally, as CoI of the ASPIICS coronagraph for ESA PROBA-3 I simulated the penumbra illumination profile to be detected by the SPS-Shadow Positioning Sensors [ 13] and defined the on-board algorithm able to provide automated metrology measurements starting from data acquired by the SPS [ 14]. Moreover, synthetic observations of CMEs in the FeXIV "green line" were created to define the best pass-band for the instrument on-board filter [ 15].